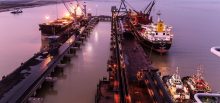 Following a seven-month blockade by protestors agitating over the controversial farm Bills passed by the government, Adani Logistics Ltd has now decided to shut all operations at its rail-linked inland container depot (ICD) at Kilaraipur in Ludhiana.
Since January, the protestors have blocked the main gate of the ICD by placing a tractor trolley to obstruct the movement of goods and personnel, thereby halting entire operations at the facility.
The multi-modal logistics park at Kilaraipur, spread over 80 acres, was opened in 2017 to cater to the industries in and around Ludhiana, offering services for the import and export of cargo by rail and road.
"As the state administration was not able to remove the blockade and allow the ICD to continue operations, the Adani Group has decided to close the business operation at ICD Kilaraipur as it cannot sustain losses and continue to pay wages to employees any longer," said a source in the know of the development.