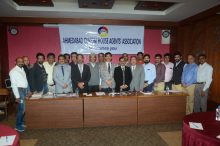 As per the nomenclature changed in Customs Brokers Licensing Regulations – 2013, Ahmedabad Custom House Agents' Association (ACHAA) will now be known as Ahmedabad Custom Brokers' Association (ACBA). The new name and registration have been also granted under the Societies Registration Act, 1660 and under the Bombay Public Trust Act, 1950.
The announcement of new name has been made by Devang Joshi – the then President ACHAA, during the Annual General Meeting of the association. Parag Baraiya, the then Hon. Secretary, ACHAA, announced the first new managing committee formed under ACBA as:
Samir Shah, Chairman
Kartik Pancholi, President
Devendra Thakker, Vice President
Darshan Mashroo, Hon. Secretary
Chinmay Kothari, Hon. Jt. Secretary
Viral Zaveri, Treasurer
Rakesh Oza, Managing Committee Member
The new managing committee has taken the charge of association immediately after the AGM and the first meeting of ACBA.