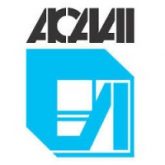 After a gap of two years, the Air Cargo Agents Association of India (ACAAI) is back with its 46th edition of Convention, to be held at Hotel Bangkok Marriott Marquis Queen's Park, Thailand, opening today till 27th November 2022. The theme of the Convention this year is "Resilient Air Cargo Industry – Post Pandemic". The convention will provide a perfect platform to discuss, deliberate, interact and learn as a professional community how the air cargo experts can continue to be resilient in this post pandemic era. This will be the fourth ACAAI Convention to be held in Thailand, the previous ones being held in Bangkok (2005), Chiang Mai (2006) and Phuket (2019). The key focus points will be:
1. Resilient Air Cargo in New Normal
2. Air Cargo Stakeholders: The New Warriors
3. Air Cargo: Leveraging the Power of the Seas
4. Women Power in Logistics
5.Benefitting from Advanced Technologies
Bangkok, Thailand's capital, is a large city known for ornate shrines and vibrant street life. It is famous for its revered nightlife scene and carefree atmosphere. ACAAI Convention 2022 offers an astounding opportunity for all delegates to engage in business in the midst of the culturally rich and tourist delights of Bangkok.