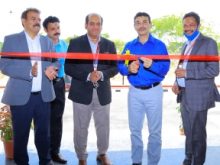 SpiceXpress keeps up to its tradition of creating unique propositions in the Indian Logistics field by inaugurating the first of its kind Airport Based Free Trade Zone Warehouse in GMR Hyderabad international Airport, Telengana.
At a time when India and the state of Telengana in specific is looking forward to promote the export and import of goods and help the manufacturers and traders boost their business we at SpiceXpress have taken the initiative of creating the Free Trade Zone at GMR Hyderabad International Airport, which is the right solution. A free-trade zone (FTZ) is a class of special economic zone. It is a geographic area where goods may be imported, stored, handled, manufactured, or reconfigured and re-exported under specific customs regulation and generally not subject to customs duty.
Most of our free trade zones are on the sea port side helping the manufacturers and traders who use the sea mode. Manufacturers and traders using Air mode, specifically Pharma, E Commerce, Aero Space, Perishables, etc had logistical challenges using these free trade zones. We at SpiceXpress are the first ones to set up a Free Trade Zone (FTZ) Warehouse on the Airport Side.
We thank Jayesh Ranjan, IAS, Principal Secretary to Government of Telengana, I&C and ITE&C Department for gracing the occasion and inaugurating the facility and opening it for all the manufacturers and traders to use.