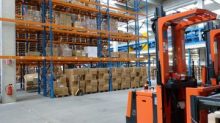 ESR announced partnership with Future Group to develop two logistics parks with an investment of ₹300 crore. To be located at Nagpur and Gurugram, the logistics parks will span 75 acres with a potential development of around 1.3 million sq. ft. It is estimated that this investment shall be made to develop two state-of-the-art industrial and warehousing parks to service northern and central regions.
The logistics parks will be jointly developed by Future Group's Future Market Networks and ESR, with the latter as the majority partner. "This partnership will strengthen ESR's presence in India to six cities and we expect this strategic alliance to expand further in several newer geographies in the next one to two years," said Abhijit Malkani, Country Head, ESR India.
He added that, in association with CONCOR Dadri, it is the commitment of CMA CGM Logistics Park Dadri to work out all modalities and deliver efficient services to its customers in every possible way.