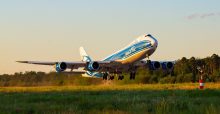 AirBridgeCargo Airlines has awarded a three-year cargo handling contract to Worldwide Flight Services (WFS) in Atlanta. WFS said the carrier is its "launch customer" at its new cargo terminal at Atlanta International Airport.
Under the terms of the agreement, the handler will process around 9,500 tonnes of cargo each year from AirBridgeCargo's Boeing 747-400ERF freighter flights.
WFS opened its cargo terminal at Atlanta Airport in May this year under a 20-year lease agreement. The facility is located in the hub's new Cargo Building C, the first new cargo terminal to open at the airport since the 1980s.
Mike Simpson, executive vice president Americas at WFS, commented: "AirBridgeCargo is an important and growing customer of WFS globally. Through multiple contracts in the US and Europe, we are consistently proving our ability to deliver the service excellence ABC demands for its customers, as well as our expertise in supporting the airline's portfolio of special cargoes services, including for pharmaceuticals and oversized shipments.