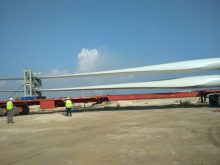 The VO Chidambaranar Port in Thoothukudi has handled the longest windmill blades in a single export consignment that comprised of 24 windmill blades of length 77.50 metres, on Sunday.
This consignment marks the longest blades handled through the port so far.
The Vessel 'MV PAC Alcor', with Length overall (LOA) of 199.9 m was berthed at the Port on June 10 and the loading of the 77.50 m long wind blades were carried out diligently.
These blades, which were manufactured at Sriperumbudur and taken to the port by M/s NTC Logistics India Private Ltd, were loaded using the ship's hydraulic and mobile cranes and were stacked three containers high conforming to safety standards. On Sunday, the vessel set off for Aransas, Texas, US.
Port Trust chairman T K Ramachandran said the port was preferred for export of windmill blades and towers. "The size of windmill rotor blades is getting longer and utmost care is being taken regarding the shipment," he added.