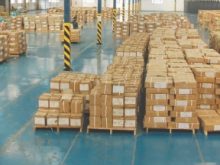 The center plans to introduce a warehousing policy laying the roadmap for developing exclusive warehousing zones through public-private partnerships to ease transportation and logistics costs. To be set up with proper storage facilities the zones will be on the outskirts of major cities to avoid traffic congestion within city limits.
The policy will be framed by the National Highways Authority of India (NHAI) that will also be the implementing agency. NHAI member Manoj Kumar said the policy is at the final stages and will be out in the public domain before the year-end.
The zones will use land banks along highways and expressways available with the NHAI. Under the public-private partnership (PPP) model land will be offered to private developers for constructing warehousing zones on a revenue-sharing basis or for a fixed fee. The terms of the agreements will be finalized later.
The fast-moving consumer goods companies along with steel and cement makers will benefit from the warehousing zones as they will be able to stock inventory efficiently near major hubs.