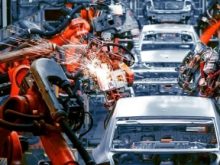 Global automakers could lose $210 billion in revenue this year because of supply chain disruptions, nearly double a forecast earlier this year, consulting firm Alixpartners said on Thursday.
Alixpartners attributes a part of this problem to a shortage of semiconductors in a new forecast. High prices and tight supplies of commodities such as steel and plastic resin are leading to a surge in costs and forcing automakers to curtail production.
Automakers are on track to lose production of 7.7 million vehicles in 2021, according to the new forecast. Alixpartners advises automakers on supply chain and other issues. The firm in May, predicted automakers would lose $110 billion in revenue and fall 3.9 million vehicles short of production plans for the year.
The forecast comes amid warnings from automakers and commercial truck manufacturers that semiconductor shortages and commodity price spikes are not easing as 2021 heads into its final months, as industry executives had hoped they would.