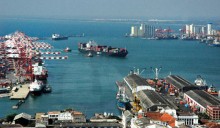 Sri Lanka has invited Indian companies to participate in its port development projects and other infrastructure building programmes. Ranil Wickremesinghe, Prime Minister, Sri Lanka has discussed the prospects of Indian companies in building two to three Ports in Sri Lanka in his meeting with Nitin Gadkari, Union Shipping and TransPort Minister.
The Sri Lankan Prime Minister wants Indian companies to develop a few Ports in Sri Lanka including Colombo Port. Gadkari conveyed his willingness to partner and cooperate in developing their Port and other infrastructure, a Road TransPort Ministry official informed. Indian subcontinent is playing a vital role in the business of Colombo Port accounting for 70 to 75 per cent of its trans-shipment business.
Earlier, Gadkari had said that India is set to build a sea-bridge and tunnel connecting Sri Lanka and the Asian Development Bank is ready to fully finance a bridge building project connecting Rameshwaram to Sri Lanka.