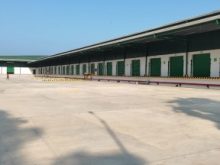 Safexpress has launched its ultra-modern Logistics Park in Ludhiana. This state-of-the-art facility is strategically located in on Payal NH-1 link road. On this occasion, senior dignitaries from Safexpress including S.K Jain- Vice President, Malay Mohan Srivastava, Regional Manager, Punjab & Chandigarh, Vinay Kumar, Area Manager- Ludhiana, and including others were present.
Ludhiana has been a thriving hub of Woolen clothes, traditional handloom & handicraft, fabric based small & medium scale enterprises. This new Logistics Park will serve as a nodal point for logistics and to provide for the transitional connective facility with all Indian states, especially with nearby districts and manufacturing hubs.
Safexpress Logistics facility in Ludhiana is spread over a land area of 2.5 Lakh sq.ft, enabled with ultra-modern transshipment and 3PL facilities, which will boost storage & warehousing needs of this region while providing for faster connectivity. The new Logistics Park is cross-dock, equipped with loading and unloading of over 80 vehicles simultaneously. It has a column-less span of over 80 feet, which facilitates uninterrupted movement of goods within the facility. To enable all-weather loading & unloading of goods, the facility is equipped with 16 feet wide Cantilever Shed.