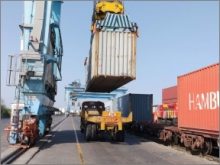 With an aim to allow consignees get their containers railed out on same rake/same day from APM Terminals Pipavav port, the Port has launched Rail-Out by Bill of Lading service so that all containers under one Bill of Lading can be cleared together at destination with less hassle. This saves considerable cost and time for importers on consignments planned for inland/hinterland locations. The service is available to any shipping line, NVOCC, consignee or their forwarders or agents.
For sea shipments, shipping lines issue a Bill of lading with specific number of containers according to details provided by shippers/exporters. APM Terminals Pipavav offers rail-out of import containers grouped by Bill of Lading (B/L). This supports the Government of India's "Ease of Doing Business" initiative.
At the discharge port, due to differences in discharge timing, most of the time containers under same B/L get stacked separately. This results in the rail-out of these containers on different rakes/different days (First-in First-out principal).
This service does not provide an early/priority rail out. It's an assurance/support that the nominated containers will rail out together on single rake. All containers would follow first in-first out principle.
Charge
• Consignees/forwarders/agents will be charged USD 12/TEU or USD 16/FFE for the service
Order Service
• Register with APM Terminals Pipavav as consignee/forwarder/agent.
• Open Pre-Deposit Account (PDA) with APM terminals Pipavav using the PDA Application Form.
• Consignee or their agent send completed B/L Raila-Out Request Form (.xls) to APM Terminals Pipavav (see sidebar) 72 hours before vessel arrival