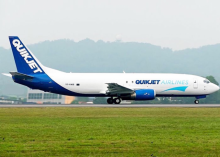 Quikjet Cargo Airlines has recently launched its maiden freighter service from GMR Hyderabad International Airport. Quikjet will be operating with Boeing 737-800F freighter aircraft based in Hyderabad with daily freighter services to Delhi and Bangalore. The freighter will carry air freight and express cargo across their network area covering Delhi, Mumbai, Hyderabad and Bangalore.
The Quikjet freighter will depart to Delhi daily from HYD at 00.30hrs and arrive from Bangalore to Hyderabad at 08. 50hrs every day. Currently, Quikjet has two aircrafts B737-800F with a capacity of 22 metric tons, both based at HYD. This new Cargo airline will boost the state's economy and empower businesses with increased cargo connectivity & quicker reach for E-commerce.
Speaking on the Quikjet launch, Mr Pradeep Panicker, CEO-GHIAL, said, "We are delighted to support Quikjet operations and glad that this is another Cargo servicing addition at our airport. Quikjet services is all set to offer increased cargo connectivity from Hyderabad to Southern India. The Quikjet services from our airport reiterate the growing prominence of Hyderabad for cargo. Over the years, GMR Hyderabad Airport has been building world-class capabilities to ensure seamless and faster cargo service globally."
GMR Hyderabad Airport Cargo handles pharma, perishable, engineering, automobile, aerospace products, large machinery, Hazardous Materials (HAZMAT) and Dangerous Goods (DG). Apart from all major cargo hubs in India, international destinations like Frankfurt, Istanbul, Dubai, Doha and Hong Kong are also well connected to the Hyderabad International Airport.