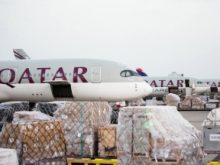 Qatar Airways Cargo has crossed a milestone transport of over 1.5 million COVID19 vaccine doses into the State of Qatar, with its largest batch of more than 530,000 Pfizer and Moderna vaccines arriving on April 4 from Amsterdam. The airline has played a significant role throughout the pandemic and is committed to helping people and giving back to communities, in alignment with its sustainability programme WeQare, based on the core pillars of sustainability – environment, society, economy and culture. Guillaume Halleux, Chief Officer Cargo, said, "We remain committed and resilient in the fight against the pandemic and together with our partners, are ensuring the safe, timely and efficient transportation of these life-saving supplies. I am glad that all our teams have worked so hard to coordinate this milestone transport into the State of Qatar, supporting the country with its COVID19 immunization campaign in the fight against the pandemic."
Since December 2020, Qatar Airways Cargo has transported COVID-19 vaccines to several countries around the world including the State of Qatar, providing large populations access to these vital vaccines, thanks to the dedication and coordinated efforts of its global teams and ground handling partners. Globally, the cargo carrier has surpassed a milestone with close to 20 million COVID-19 vaccines transported into 24 different countries, including COVID-19 vaccines for UNICEF as part of the five-year MoU to support UNICEF's Humanitarian Airfreight Initiative. Through its QR Pharma product, Qatar Airways Cargo offers controlled cool chain and dedicated monitoring, intervention and servicing as well as proactive re-icing at its Doha hub. With significant investments and enhancments to the QR Pharma product and its state-of-the-art hub in Doha, the cargo carrier confirms its strategy and commitment to supporting the logistics around the global COVID-19 vaccination endeavour.
Globally, the airline has transported close to 20 million COVID-19 vaccine doses.