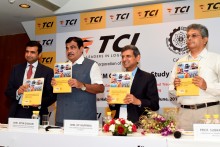 The report is based on the joint survey of road freight transportation along 28 key routes in India. The aim of the study is to explore new ways to increase the operational efficiency of freight transport by road. This study, henceforth referred to as the 2014-15 survey, was commissioned by TCI to assess the operational efficiency of freight transportation by road in India. This is a follow-up study of the earlier studies, also commissioned by TCI, in 2008-09 and 2011-12, henceforth referred to as the 2008-09 survey and 2011-12 survey, respectively.
The other objective was to make an assessment of the operational efficiency of freight transportation by road, and suggest recommendations. The focus of the 2008- 09 survey was on a detailed analysis of the trucking industry and a comparison of roads and railways in terms of freight transportation.
As on March 31, 2013, India's total road length network was 5.23 million km and road density was 1.59 km/sq km. However, the length of national highways/expressways was a meagre 100,087.08 km, or about 2 per cent of the total road length network, even as they carried 40 per cent of the road traffic. Roads and railways carried about 65 and 30 per cent, respectively, of the country's total freight volume. The rest carried by waterways and airways. In 2011-12, the contribution of the transport sector to India's GDP was 6.5 per cent, out of which roads and railways accounted for 4.8 and 1 per cent, respectively.
Road freight volumes are expected to increase from 1315 BTKM in 2012-13 to 1553 BTKM in 2014-15. However, development of new roads has not been able to keep pace with increasing freight volumes and passenger traffic since Independence, creating infrastructural bottlenecks. The government should simplify and standardise the rules and regulations across different modes of transportation to facilitate multimodal transportation. Therefore, the needs of the hour are to build new roads faster, widen existing roads and improve road conditions through periodic maintenance.