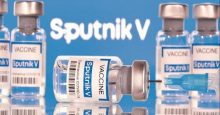 Pluss Advanced Technologies (PLUSS) will supply its Celsure® COVID SURAKSHA box to Dr Reddy's Laboratories Ltd, for optimal temperature-controlled transport and storage for the Sputnik V vaccine, in India. PLUSS' patented Celsure® box with "Phase Change Material (PCM)" technology will control and maintain the temperature, currently -18 degree centigrade (-18C), required to ensure the efficacy of the Sputnik V vaccine.
The partnership entails turn key engagement with PLUSS for Celsure® packaging. In this effort, PLUSS provides pre-conditioned Celsure® box right at Dr. Reddy's warehouse to be readily used for Sputnik V packing. A separate specialized conditioning centre has been set up locally in Hyderabad with a fleet of "Rapid PCM Recharging Stations" and mechanisms built for "Track and Trace". This model meets highest standard of cold-chain supply management and is highly scalable to meet country's demand of vaccine doses in a short period of time.
The Celsure® COVID SURAKSHA box can maintain inside-temperature passively, without electricity, at desired levels for more than 100 hours and serve as an energy efficient and safer alternative to refrigerated containers, conventional ice-packs or even dry ice, which are considered hazardous, unsustainable and unsafe for carrying in airlines.