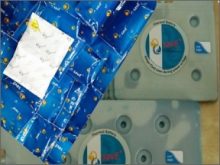 Pluss Advanced Technologies (PLUSS) has been granted a patent by the United States Patent and Trademark Office for its Celsure™ box which is designed using Phase Change Material (PCM) technology to maintain specific inside-temperature. The Celsure™ box is a simple box-in-box transport solution with over 40 variants to maintain different inside-temperatures, ranging from -77C to +89C, for times ranging for a few hours to a few days. The Celsure™ box serves as a better and safer alternative to dry ice and conventional ice-packs and has reduced costs and complexities in transport and storage of perishables, vaccines and temperature sensitive pharmaceutical products.
The patent was granted to the innovative method of arranging PCMs, which leads to precise inside-temperature control, under varying ambient conditions. The company has received a patent for Celsure™ from the European Patent Office in Germany also, and has applied for a patent in India, Singapore, and Brazil, as well.
"PLUSS was formed to innovate on speciality polymers, to address India's industrial and social and environmental challenges. With our genesis in research, we have been able to develop unique low-cost solutions for temperature control, using the concept of thermal energy storage. Our solutions have been adopted commercially, and the US Patent is a testimony to the robust technology being used for operational and cost efficiency in transporting temperature sensitive cargo," said Samit Jain, Managing Director, PLUSS Advanced Technologies.