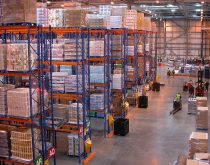 DP World and BoxcoWorld FZE, have signed a Memorandum of Understanding with to invest USD 28 million in the construction of a cutting-edge warehouse facility in Jebel Ali Free Zone (JAFZA), UAE to cater global needs. The agreement was signed by Abdulla Al Hashmi, COO, Parks & Zones, DP World, UAE Region and Vir Kotak, Founder, BoxcoWorld. The new facility will cater to the warehousing demands of its existing customers, providing them with a state-of-the-art facility equipped with one-window logistical solutions. The industrial bloc will offer sorting and repackaging services for imported waste paper, primarily from the USA and Europe. After the sorting and repackaging process, the waste paper will be re-exported to markets in the Indian subcontinent and Far East Asian regions. The facility is projected to have a throughput of approximately 15,000 TEUs.
Additionally, a 40,000 CBM robotic racking system for Polymers will be created, which is a unique and pioneering initiative set to be the first of its kind in the GCC.
The warehouse facility will serve as the ideal destination for customers to efficiently manage their import and export cargo with minimal delays when connecting to and from vessels. It will also be efficiently equipped to provide customizable on-site storage solutions tailored to the unique requirements of clients and their business needs. The facility will foster closer relationships with existing and prospective clients, enabling the company to gain a deeper understanding of specific customer needs and challenges in the import, export, and trading sectors.
Speaking on the signing of the MoU, Vir Kotak, Founder, BoxcoWorld said, "I am extremely optimistic and excited about the growth prospects of the entire region. Dubai, Jebel Ali, and Jafza are ideally positioned both geographically and in terms of ease of doing business to capitalize on these opportunities. This MoU reflects our unwavering dedication in setting new industry standards for innovation and excellence. The facility's advanced technology and tailored solutions along with our extensive knowledge of local logistics intricacies, will add a new dimension to our advanced logistical capabilities, and empower our clients across industries to navigate the challenges of a dynamic marketplace successfully. I firmly believe that this is just the beginning of a long growth cycle ahead, and the infrastructure we are building is at the forefront, giving us confidence in its long-term viability."
The industrial bloc of the facility will provide sorting and repackaging services of imported waste paper coming in from USA and Europe. After sorting and repackaging, the waste paper will be re-exported to Indian subcontinent and Far East Asian markets.