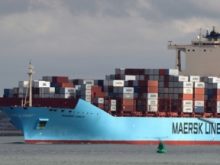 On the back of rising customer demand for green transportation and technical cap, the container shipping giant A.P Moller Maersk prepone decarbonization plans by a decade. The company now plans to achieve net zero-emission in its' business by 2040. With the sea responsible for transporting about 90% of world commerce, global shipping accounts for 3% of the world's CO2 emissions, and the sector is underneath rising scrutiny to become greener and cleaner.
"When we set the target back in 2018, it was truly a moon-shot target, where truth be told we didn't have a lot of very specific plans," said Henriette Hallberg Thygesen, Chief Executive of Fleet and Strategic Brands, Maersk.
But since then, several technological advances on the vessel aspect in tandem with growing demand for carbon-neutral supply chains from large corporates such as Amazon and IKEA have been observed.
Maersk set a 2030 interim target for a 50% reduction in emissions per transported container, and a 70% cut in absolute emissions from fully controlled terminals.