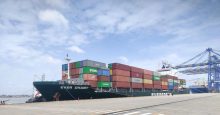 Economic activity in the logistics industry has seen an upsurge recently due to a strong consumer demand that continues to put pressure on warehousing and transportation networks.
In June, the Logistics Managers' Index (LMI) reached the second-highest level in the history of the last five-year index and was registered at 75, showing a growth of 4%.
According to the LMI researchers, the quarterly three-month moving average also reached a record level this spring, indicating second-quarter growth as the fastest in the history of the index.
While the inventory levels and costs continue to exempt growth in June and rose 9 points and more than 5 points, respectively. The warehousing and transportation capacity continued to contract, registering 40.7 and 34.5 respectively.
"The combined lack of capacity makes it difficult to meet consumer expectations. The mismatch between supply and demand has driven logistics costs up, despite the fact that inventory is flowing quickly," according to the report.