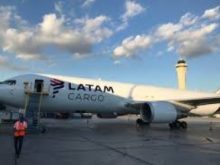 LATAM Airlines has announced that the airline will expand its freighter capacity by as much as 80% through the addition of up to eight B767-300ER conversions. The conversion plan will be implemented over two phases; the first phase will see four aircraft converted between 2021 and 2022 and the second phase consists of four additional conversion options for delivery between 2022 and 2023. Upon completion of phase one, LATAM's cargo fleet will reach a total of 15 Boeing 767-300ER freighters. If all options are executed, LATAM will operate a total of 19 767-300ER freighters.
Roberto Alvo, Chief Executive, LATAM Airlines Group, said, "Despite the deep crisis the industry is enduring due to the pandemic, we maintain our commitment to support the region's exporters and importers by providing them with more and better options to carry their cargo to their destinations. As a result, growth plans have been accelerated with conversion of up to eight Boeing 767-300ERs in the next 30 months."
Andrés Bianchi, LATAM Cargo's chief executive adds, "Combining the passenger belly operations of LATAM Airlines Group with 15 to 19 Boeing 767-300ER freighters efficiently strengthens our customer value proposition. These conversions will enable the cargo affiliates to grow in key segments such the Colombian flower market or imports to Brazil. It also allows our affiliates to expand their network in domestic markets where e-commerce is rapidly generating an increase in air cargo traffic."
The move comes as airlines explore options on what to do with unused passenger aircraft and expectations of a lengthy recovery in intercontinental passenger flights.