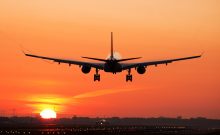 Kuehne+Nagel taking forward the issue of sustainability by becoming the first air logistics provider with an option to purchase Sustainable Aviation Fuel (SAF) for each shipment and avoid carbon emissions.
This new add-on is available for the customers on all Kuehne+Nagel air freight quoting platforms and channels, allowing customers to choose carbon neutral transport via their preferred online or offline quoting method.
With the newly launched offering, all Kuehne+Nagel customers can easily opt for SAF to be used instead of fossil fuel for air transport and benefit from net-zero carbon emissions air freight services – regardless of airlines used, origin or destination. As SAF still produces some CO2 emissions, carbon neutrality is achieved by substituting each litre of jet fuel kerosene used with 1.33 litres of SAF.