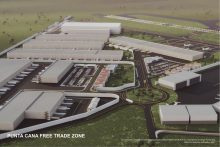 DP World and Grupo Puntacana have announced a joint effort to develop a new air cargo logistics hub in Punta Cana, Dominican Republic. The new facility is being created through an agreement between DP World and the Punta Cana Free Trade Zone (PCFTZ), a company of Grupo Puntacana. It will include a new logistics centre and infrastructure platforms capable of supporting multimodal air, land, and sea cargo. Operations are expected to commence in Q2 2023.
The logistics centre will reportedly harness DP World's extensive Dominican Republic multimodal cargo management experience and its experience in handling logistics operations globally.
The centre will also apply the high connectivity of the Punta Cana International Airport (PUJ) to global distribution centres, according to DP World.
The agreement will additionally launch the deployment of a robust regional commerce strategy to attract a greater volume of re-export and import cargo to and from major global commercial, industrial, technology, and agricultural markets.
The project aims to generate greater investments in logistics services, increasing demand for logistics-related labour, and triggering growth and diversification in the economy of the Dominican Republic. "This new air cargo logistics centre with Punta Cana Free Trade Zone allows us to expand the range of services we can provide to our increasingly diverse customer base and help boost the country's competitiveness," said Morten Johansen, CEO of DP World's operation in the Dominican Republic.
This announcement comes less than two weeks after Nippon Yusen Kaisha (NYK) reached an agreement to sell its air cargo