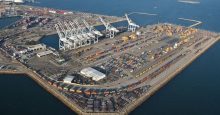 PMO figures covered in latest report by the official IRNA news agency showed that Iran's ports capacity would reach 280 million tons per year with the completion of a handful projects this year. The report said total port handling capacity in Iran was around 180 million tons in the summer of 2013 when the current administrative government took office for a first four-year term.
It said container capacity at ports, which is measured in twenty-foot equivalent units (TEU), will have doubled by mid-summer this year compared to eight years ago to reach a total of 8.5 million TEU. It said passenger handling at ports will have reached a target of 25 million people per year this year, up from 14 million in August 2013.
The expansion of capacity in Iranian ports comes despite massive restrictions facing the country in the past three years because of US sanctions.