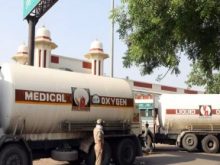 IOC is converting 14 LNG tankers of 17 tonnes each into medical grade oxygen carriers to strengthen the medical oxygen logistics in the country.
In a statement, Indian Oil Corporation (IOC) said it had previously diverted high-purity oxygen used in its Mono Ethylene Glycol (MEG) unit to produce medical-grade liquid oxygen at its Panipat refinery and petrochemical complex. In the face of a massive surge in demand for medical oxygen, the "throughput of the unit has also been scaled down to serve the more critical cause. Presently, it is supplying 270 tonnes of LMO per day to the hospitals in Delhi, Haryana and Punjab," it said.
"By mid-May, over 20 road tankers and 25 ISO containers of about 820 tonnes combined capacity will be pressed into action by IOC," the statement said, adding the firm will be manufacturing ten cryogenic road tankers at its Cryogenic Plant at Nasik over the next six months.