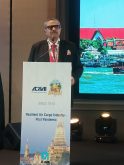 While addressing the gathering at the ongoing 46th edition of the Air Cargo Agents Association of India (ACAAI) conference in Bangkok, Thailand, Tushar Jani, Group Chairman, Cargo Service Centre said that the industrial collaboration, unity and cooperation are vital to achieve growth in the future. He also stressed upon investing heavily in the supply chain business, training manpower and bringing more dedicated narrow body freighters in the coming years to transport cargo across the world.
"Ten years from now, we should have more Indian air cargo airlines moving around the world and that's the future. Let's do it together. Let's do it in appropriate ways. The stakeholders need to understand that the world will collapse if there is no supply chain and if you are a smart investor, you should invest in the supply chain. I have come across many foreign investors ready to invest in the Indian logistics market, considering the potential it has. Also, there is an urgent need to train manpower and bring in fresh talent.
I want to urge you to bring young people into this system and take this industry forward."
Jani said, it's the right time to invest in the Indian market.  "India is going to build a dedicated freight corridor from North East via Myanmar to Thailand to Cambodia, Vietnam and connecting Phillipines. This is going to be an alternative route to the other trade establishments in this part of the world. So the North East is going to be the gateway for cargo conversion and the North East is going to be the logistic gateway for India," he shared.
He further added, "The next e-commerce gateway of India would be the North East. I feel they are in the right place, right time. Younger generation, younger people, efficient government, a very strong Prime Minister. I would say, this is our time, don't let it go and make the most of it."