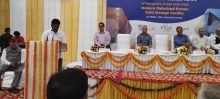 Indicold inaugurated the latest location on its Network at Rai Industrial Area Sonipat on 9th March 2023. The brand-new facility is a completely frozen facility with a capacity of 4416 pallets. The facility is equipped with the latest machineries and technology. It is designed with a view to minimize temperature loss by efficient planning of operations, mechanized movement, computer controlled plant management etc. The facility was inaugurated by Sh. Kalyana Rama, Chairman and Managing Director, CONCOR in the presence of Directors of CONCOR, Sh. Rajesh Goyal – President of Federation of Cold Storage Associations of India, Ms. Pragya Nehru, Director CII FACE, Shri Mukesh Aggarwal, MD, Siddhi Enterprises, Sh. Kartik Jalan, CEO & Founder Indicold. Sh. Kalayan Rama keenly noted the achievement by Mr. Mukesh Agarwal and Indicold is putting up this facility in a timeline of less than 60 days. This is no mean feat and an industry record by any standards.
Sh. Mukesh Agrawal, thanked the entire team, vendors and specifically Indicold team led by Mr. Kartik Jalan in driving these seemingly impossible time lines and ensuring early commissioning of a world class facility.
The event was well attended by industry leaders and representatives of the cold chain sector across Indicold's verticals of store, move and prepare. On the day of the inauguration the first trucks of ice cream were unloaded and the facility started operations.