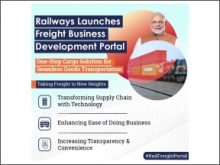 With new features like online tracking, reduced costs and better ease of doing business, Indian Railways has launched a dedicated online portal for its freight customers. Billed as a 'one-stop solution' for freight customers, the portal has been designed to replace physical processes with online ones to minimize the need of human to human interaction. The new portal was unveiled by Piyush Goyal, Minister for Railways, Commerce & Industry. He says, "The new portal will be game-changer in ensuring in ease of doing business with Railways."
Key features of the new Freight Business Portal of Indian Railways
• A simplified registration process and convenient placement of demand for wagons.
• Guides new and prospective customers through available benefits, terminals and logistics options
• Assists new customers in choosing wagons and shows cost and shipping time estimates.
• For existing customers, the new portal provides a personalized dashboard with easy access to all business being conducted through IR.
• Live-tracking of consignments through GIS view.
• Single-click applications for various services like discount schemes, diversion, rebooking, demurrage, wharfage waivers, stacking permissions and more.
• Rake allotment status and pendency or maturity of indents at various terminals
• Special Commodity Pages that help the user find the most suitable wagons, terminals, charges, transit times, etc for your area.
• Logistics Partnering facilities
• Customer support section for suggestions and complaints that will be attended to professionally.
The portal can also be accessed at www.indianrailways.gov.in