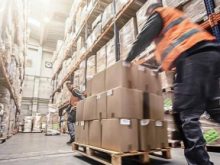 Urban logistics spaces in India are expected to exceed 7 million sq. ft by 2022, as demand surges, JLL said it its report 'India Urban Logistics – Are dark stores revolutionising the sector?' released today.
The urban logistics industry in India is at a very nascent and fragmented fringe state now and is on the cusp of going mainstream. Demand will be supported by freight congestion currently impacting cities and communities and mitigate the associated environmental impact of vehicles on these locations. According to JLL, urban logistics will help address these infrastructure, community, and environmental concerns, while via the efficient movement and transport of goods in urban areas through last-mile storage spaces. Furthermore, urban logistics is expected to expand significantly beyond 2022, as the increasing trend of faster goods distribution and e-commerce penetration increases nationwide.
"Urban logistics will play a more front-and-centre role in the metropolitan economies of India as consumers become more tethered to the convenience, transparency and hygiene benefits of online purchasing throughout and post-Covid. The surge in e-commerce has led to increased storage space and logistic delivery capabilities, thereby giving owners and developers a clear opportunity to capitalise on the demand, which we believe will easily exceed 7 million sq. ft by 2022," said Radha Dhir, CEO and Country Head, India, JLL.