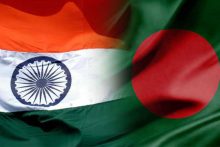 India and Bangladesh restored regular operations of freight trains through the Haldibari-Chilahati rail route after 56 years on Sunday, in a step aimed at strengthening rail connectivity and bilateral trade between the two countries. The Haldibari-Chilahati rail link was inaugurated in December 2020 during a virtual meeting between Prime Minister Narendra Modi and Bangladesh PM Sheikh Hasina to boost trade relations between the two nations.
This rail link is also set to provide northeast India with an opportunity to enter the international market.
The first goods train left Dumdim station of Alipurduar division on Sunday and will reach Chilahati station in Bangladesh via the Haldibari-Chilahati rail route.
It will also boost e rail network accessibility to the main ports and dry ports to support the growth in regional trade and to encourage economic and social development of the region.