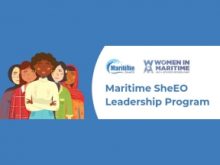 The International Maritime Organization (IMO) will sponsor a number of women from developing countries to follow a new maritime leadership programme, curated by Maritime SheEO , as part of the it's ongoing work to support gender diversity in the maritime sector.
In Maritime, as with other sectors, the higher you climb the fewer women leaders you see in leadership positions. You cannot be what you cannot see! We need more women leaders, more role models and more importantly – our industry needs more capable women in the Captain's seat.
Says Sanjam Sahi Gupta, Founder, Maritime SheEO, "with a strong belief that every woman in the workplace should have the opportunity to flourish and achieve her full potential in 2019 I embarked on this mission through Maritime SheEO to create an ecosystem that supports women to become the leaders they want to be and they deserve to be". She further adds, "I am really very grateful to IMO for showing their confidence in Maritime SheEO through their support for this unique Maritime women's empowerment initiative".