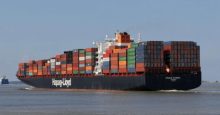 The Inland Container Depot (ICD) Birgunj, Nepal and Indian ports Kolkata and Visakhapatnam aims to offer greater flexibility and reliability for regional shippers with thw new link.
Sudhir Sudhakaran, Inland Steering Manager Area India, said, "By expanding its presence in the hinterland bordering eastern India, the firm is able to capitalise on the booming import-heavy niche market."
The rail connection is a regular service, offering greater reliability for planning than previous road arrangements. Customers additionally will be able to receive a Through B/L and can directly take delivery of cargo in Nepal.
"The partner we have chosen in Nepal is the ICD operator and now runs a private railroad, which ensures us access to infrastructure and strengthens our ability to deliver quality to our customers," the company added.
Customers can book their cargo up to ICD Birgunj with the choice of Kolkata and Visakhapatnam as gateway ports.