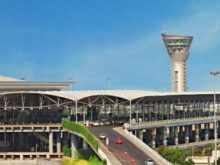 The GMR group, which has interests in the Airports, Power and Transport sector, is beefing up its airport business. The group's airport business was the second-largest airport developer in the world pre-Covid, based on annual passengers. The airport business has an operational capacity of 94 million passengers right now, with almost as much capacity (85 million) under development.
The expansion by the group, whose airports business has attracted investments from French operator Groupe ADP, is being driven by the Delhi and Hyderabad airports. GMR has fully tied up financing for its capital expenditure.
This gives it a much-needed headstart against the Adani group, which, after a delay, has started taking over the airports it had won as part of the government's latest privatisation drive. The Covid period, when traffic is lower and there is slack to expand terminals, is being utilised to ramp up capacity, and scale up businesses such as Duty Free. This is to ensure that when traffic recovers the group has both the capacity and the skill to earn revenues not only to recover the investments, but possibly make profits.