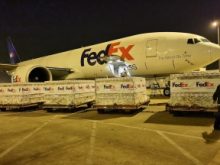 FedEx Express will invests more than SAR 1.5 billion in Saudi Arabia over the next 10 years to meet the country's growing international shipping demands. This investment will reaffirm the company's commitment to the country's non-oil economic growth, in line with Saudi Arabia's Vision 2030 goals, and the 'National Industrial Development and Logistics Program' which seeks to increase non-oil exports to more than SAR 1 trillion (approximately US $266 billion).
Under Saudi Vision 2030, the country is committed to increasing its total air cargo capacity. With many years of experience, specialized services, and advanced technology solutions, FedEx is said to support the trade requirements of the healthcare, e-commerce, technology, energy, aerospace, automotive, and petrochemical sectors.
FedEx Express has been facilitating trade in Saudi Arabia since 1994, offering international solutions and connectivity through local service providers, most recently through SAB Express.