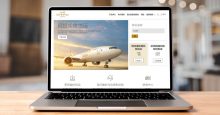 To mark the occasion of the Chinese New Year, Etihad Cargo, the cargo and logistics arm of the Etihad Aviation Group, today launches a Mandarin edition of its website, etihadcargo.com. With China contributing to more than 20 per cent of Etihad Cargo's operations, the country represents one of the UAE national carrier's biggest markets. The launch marks a key milestone as Etihad Cargo looks to further strengthen its position within the Chinese market.
Starting 8 February, all visitors to etihadcargo.com from China will automatically be routed to the Mandarin version of the site, where they will be able to access information about product offerings, as well as station capabilities, feedback options, and claims' details in the local language. "Launching the Mandarin version of etihadcargo.com aims to facilitate access to information for Etihad Cargo's customers and partners in the Chinese market," said Jacqueline Han Lin Ni Area Manager North Asia Pacific at Etihad Cargo.
"The new Mandarin website is another step to cementing Etihad Cargo's strategic footprint with the Chinese market," added Ni. "The carrier is also working on a Mandarin version of the new booking portal, demonstrating Etihad Cargo's commitment to its partners in China, as well as its intention to help improve and expand its digital portfolio and streamline its services for customers.
"With the addition of a Mandarin-language version of the portal, Etihad Cargo is confident of strengthening and solidifying its position in the Chinese logistics industry".