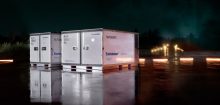 Envirotainer, the global market leader in secure cold chain solutions for air transportation of pharmaceuticals, has launched its latest innovation, the Releye® RAP. This is complemented by the new Control Tower managed service. The Releye® RAP sets a new benchmark for temperature-controlled 5-pallet solutions. The largest of the new generation Releye® containers, the RAP is the only one of its type in the world, combining big capacity with superior features. Designed to meet the strictest requirements in pharmaceutical air freight, the integrated live monitoring enables a unique insight into product condition, location and progress of the shipment.
With its increased efficiency and capacity, it reaches outstanding CO2 reductions per shipment, and is the future solution for secure cold chain shipments. All monitored and maintained with the new service Control Tower.
The Releye® RAP is the second in a family of advanced temperature-controlled air freight containers Envirotainer is developing. It joins the 3-pallet Releye® RLP launched in 2021. The foundation of the Releye® platform are the five pillars: Control, Monitoring, Autonomy, Value and Sustainability.