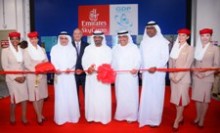 Emirates SkyPharma, Emirates SkyCargo's new purpose-built facility dedicated exclusively to the timely and secure transport of temperature sensitive pharmaceutical shipments at Dubai International Airport (DXB) was officially inaugurated on September 18, 2016 by his Highness Sheikh Ahmed bin Saeed Al Maktoum, Chairman and Chief Executive, Emirates Airline and Group.
The new purpose built Emirates SkyPharma facility, part of the new 11,000 square metre extension of Emirates SkyCentral terminal at Dubai International Airport, offers 4,000 square metres of space dedicated to pharmaceutical cargo. It also features temperature controlled zones (2-8 degree Celsius and 15-25 degree Celsius), 88 temperature controlled individual positions in the automated ULD (aircraft pallet) handling system and 5 temperature controlled acceptance and delivery truck docks.
The new Emirates SkyPharma facility at Dubai International airport works in conjunction with Emirates SkyCentral DWC, the carrier's freighter hub in Dubai World Central which offers 4,600 square metres of dedicated area for pharmaceutical cargo.