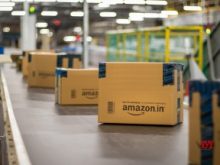 E-commerce platforms like Amazon India, Flipkart and Zomato, ahead of the festive season, have begun adding new members to their blue-collar arsenal. As the pandemic-era curbs have fuelled strong growth in online ordering, the e-commerce giants are luring them with joining and performance-linked bonuses to efficiently meet consumer demand.
This festive season, the e-commerce companies and logistics operators are expecting a sales estimated to rise as much as 15% more than the pre-pandemic festive season in 2019, said Nilabh Kapoor, business head, OLX People, a recruitment service provider.
"With businesses recovering in most parts, hiring of temporary workers has seen 3-4X growth in the recent past and is expected to double during the festive season to keep up with rising demand across platforms," Kapoor said.