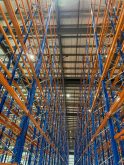 D P World has launched its state-of-the-art 3,80,000 sq. ft. warehouse in Bhiwandi, in Maharashtra's Thane district. The facility is fully compliant for the storage and handling of chemicals along with non-chemicals and has commenced operations effective September 1, 2023. This new facility elevates DP World's warehousing capability to 5+ million sq. ft. of warehousing space PAN India. A partition divides the entire warehouse into two sections. One spans 1,90,000 sq. ft. and is specially designed for hazardous chemical storage, complete with heavy-duty G+8 level racking and state-of-the-art very early smoke detection apparatus (VESDA). This adaptable section offers an impressive capacity of 20,000 pallet positions for the normal temperature zone, along with an additional 1,000 pallet positions for the 20 to 25-degree temperature-controlled area, which can be further expanded when needed. The second section covers 1,50,000 sq. ft. and is dedicated to non-chemical storage. Additionally, the warehouse includes a 40,000 sq. ft. separate area featuring two distinct cold storage rooms.
The new facility provides comprehensive safety features throughout the premises. This also includes a Chill temperature-controlled area, maintained at 20° to 25°C, for Pharma, Food Reagents, etc. Additionally, there are fireproof partitions, a dedicated firewater system, a spill containment pit, and Rockwool insulation on the roof. To enhance air quality and promote employee well-being, the facility utilizes High-Volume Low-Speed Fans (HVLS) for efficient air circulation. Furthermore, as a sustainability initiative, the facility is equipped with a solar system.
The facility's two-sided Docking system reduces the picking path whereas a Safety Lifeline system ensures driver safety while removing tarpaulin from trucks. The facility also features an extended canopy area of over 5 meters, ensuring smooth loading and unloading of vehicles across all seasons.