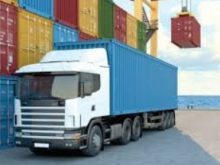 The Indian logistics sector has witnessed a sequential recovery in months following the severe disruption in Q1 FY2021 on account of the nation-wide lockdown. The pandemic induced disruptions had created demand-side and supply-side challenges, however, as the restrictions eased and economic activity revived, the freight availability for logistics players also improved. Although the Y-o-Y volume and revenue contraction continued even in Q2 FY2021, the recovery has been faster than expected, with volumes reverting to year-ago levels by September 2020 and improving thereafter.
According to Shamsher Dewan, Vice President, ICRA Ratings, "As the economy opened up and industrial, manufacturing, construction and consumption activities picked up pace, freight availability also improved, aiding recovery in the sector. Freight rates also held up in this period. As such, although revenues continued to contract in Q2 FY2021, the pace of contraction mellowed down. As per industry estimates, freight volumes reverted back to year-ago levels by the end of Q2 FY2021, and have improved further in the third quarter, with festive-led demand and specific sectors like e-commerce leading the growth. This trend was visible in E-way bill and Fastag data, which reached pre-pandemic levels in September 2020 and posted Y-o-Y growth in October and November 2020."
The rail freight traffic has also reported similar trends, although it was able to improve on its year-ago volume levels within Q2 FY2021 itself. The volumes thereafter have also held up, expanding 12% on the base of the previous year during the third quarter so far. The seaways freight traffic, on the other hand, is yet to reach pre-pandemic levels, with supply-side/infrastructure constraints limiting the volume recovery.
Overall, the aggregate revenues of ICRA's sample of logistics companies recovered sequentially in Q2 FY2021, growing 52% over first quarter levels. The recovery was visible across the various modes of logistics activity. Both Full Truck Load, Less than Truck Load and Supply Chain Management businesses benefited from the pickup in manufacturing activity and consumer demand. Furthermore, the express cargo segment reported healthy momentum, supported by strong traction from the e-commerce sector. However, express segment with dependence on document movement (especially air cargo) continues to remain impacted as offices are yet to open up completely.
During Q3 FY2021, the situation has further improved sequentially, supported by the seasonally strong festive period, which has aided further pickup in consumer demand. Accordingly, freight volumes and consequently, revenues of logistics companies have returned to the growth trajectory. However, sustainability of this demand post the festive season remains to be seen and would remain critical for a sustained recovery in the sector.
With the encouraging trends visible so far, ICRA expects that the logistics sector would be able to pare back some of the volumes and revenues lost during the first quarter, with rural-led sectors and sectors such as e-commerce, pharmaceuticals and auto aiding recovery. Accordingly, ICRA expects the revenue of its sample of logistics companies to decline by 12-14% Y-o-Y in FY2021, despite the 18% contraction reported in H1 FY2021. Nevertheless, in the absence of a successful commercial vaccine, the possibility of a second or third wave, and possible lockdowns imposed to combat it, poses potential downside risks to these estimates.