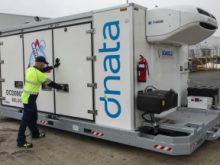 To further enhance its pharma handling capabilities globally, dnata has added four high-tech 'cool dollies' to its Australian cargo fleet, becoming the first air services provider to offer a fully integrated, temperature-controlled cool chain for pharma and perishable shipments in this important market. Offering a closed, temperature-controlled system, the specialised containers will ensure safe and seamless delivery of temperature-sensitive goods, including pharmaceuticals and vaccines, between aircraft and dnata's state-of-the-art cargo facilities. dnata will operate two cool dollies each at Sydney Airport (SYD) and Melbourne Airport (MEL), providing maximum safety to airline partners and their customers at every stage of the handling process.
Dirk Goovaerts, dnata's Regional CEO for Asia Pacific, said, "We are thrilled to be the first cargo handler in Australia to launch advanced cool dollies in our operations. Our latest investment underlines our commitment to ensuring reliable and safe end-to-end transportation of pharmaceutical products across the supply chain. We stay focussed on providing continual improvements that enhance the safety and security of our customers' pharma shipments."
Vanessa Orth, Chief Commercial Officer, Sydney Airport, said, "Sydney Airport has played a pivotal role throughout the COVID-19 crisis, facilitating the movement of essential workers, medical supplies, agricultural exports, and thousands of people going and coming home. We applaud dnata for their investment in the resilience of Australia's pharmaceutical supply chain, an investment which will ensure Sydney Airport continues to play its central role in the nation's air cargo network."
Shane O'Hare, Chief of Aviation, Melbourne Airport, said, "We congratulate dnata for investing in cool dolly services, which will enable greater movement of temperature-sensitive goods around Australia. The product will certainly add to dnata's existing cargo capability at Melbourne Airport which is the leading domestic and 24/7 international freight hub in Australia."
Ramp transportation is one of the most vulnerable stages for temperature-sensitive cargo like pharmaceuticals. dnata consistently improves training and processes to transport these precious shipments to the highest international standards. Teams receive specialised training and temperature-sensitive cargo are given priority loading and unloading to ensure that they are moved quickly with minimised temperature fluctuation.
dnata's new cool dollies allow the company to take pharma handling to a new level. Providing temperature-controlled storage from -25°C up to +25°C, the specialised containers mitigate risk of temperature deviations and contamination throughout the handling process. They have a closed structure with alarms on opening and closing, as well as alerts if temperatures fluctuate above acceptable ranges. The units are also hygienic and easy to clean, which is an important consideration for pharma cargo.
In Australia, dnata operates cool chain facilities in Melbourne and Sydney. Designed and built with flexibility and unique product requirements in mind, the facilities enable dnata's cargo teams to offer an uncompromised temperature-controlled handling and storage solution to airline customers. The temperature-controlled areas in the facilities are monitored with web-based systems to facilitate real time management of all areas. In 2020, dnata's Melbourne and Sydney facilities processed some 22,000 and 43,000 tonnes of temperature-sensitive pharma and perishable goods, respectively.