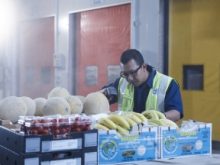 A global air services provider, dnata, has been awarded IATA's Centre of Excellence for Perishable Logistics ('CEIV Fresh') certification at Singapore Changi Airport for achieving the highest quality and standards in the temperature-controlled handling of perishable products, including fresh fruits, meat, fish, dairy and flowers. The transport of perishable goods by air increases constantly with growing consumer demand for healthy products all year round. The most important aspects of air transportation of perishables are time and temperature management to prevent food loss. The CEIV Fresh program meets these exacting requirements primarily based on the IATA Perishable Cargo Regulations (PCR) which combines professional regulatory and operational input from industry and government experts.
Sam Gould, Head of Cargo – Singapore, dnata said, "There is an increasing demand for safe air transportation of temperature-sensitive goods. We constantly invest in infrastructure, training and process improvement to ensure that these delicate products reach the end-customer in perfect condition. IATA's CEIV Fresh certification demonstrates the quality and reliability of our services, and supports Changi Airport's positioning as the preferred cargo hub for time-, and temperature-sensitive shipments."
In addition to the CEIV Fresh certification, dnata holds IATA's Center of Excellence for Independent Validators in Pharmaceutical Logistics ('CEIV Pharma') accreditation which demonstrates its ability to move pharmaceutical products under the strictest standards across its operations.