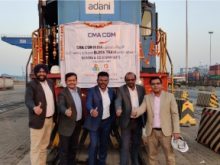 International Cargo Terminals (ICT), through its subsidiary Delhi International Cargo Terminal (DICT) and CMA CGM announce the start of the second weekly block train between Mundra and Sonepat. With this second weekly block train, CMA CGM and DICT assure more efficient dedicated services for their customers based in the region by helping them bring their cargo to locations on time. The two weekly trains will run between Mundra to DICT Sonepat on Tuesday/Wednesday for the first block train and Saturday/Sunday for the second block train DICT started the first block train for CMA CGM in August 2019 and to date, the two companies have jointly handled 86 block trains. This second weekly block train between Mundra port and Sonepat is one of several initiatives the CMA CGM Group has implemented to boost capacity to meet its customers' needs and make the shipping and logistics supply chain as seamless as possible. CMA CGM is developing sustainable door-to-door solutions to allow customers to reduce the carbon footprint of transported goods significantly. Compared to cargo movement via truck, the block train option reduces CO2 emissions by up to 67%.
At the start of the second block train service from Mundra to Sonepat, Atit Mahajan, General Manager, CMA CGM India, said, "CMA CGM Group is on a strategic expansion in India keeping the requirements of our customers as our prime focus. This second train service from Mundra to NCR region will allow our customers to benefit from an extended guaranteed capacity coupled to more flexibility with two departures per week."
Two major Groups are committed to providing reliable solutions for their Indian customers.
Present in India for more than 30 years, the CMA CGM Group employs 4,700 staff members in India. It connects the country to the rest of the world with 12 services making 12 calls weekly.