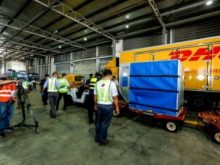 DHL Global Forwarding has announced to deliver additional doses of Covid-19 vaccines on a weekly basis into Australian and New Zealand to support the countries' inoculation programme. DHL Global Forwarding arranged for the collection and airfreight of the vaccines from the manufacturing site in Europe and upon the vaccines' arrival in Australia and the Auckland Airport, handled the customs clearance and final delivery to the designated locations. "Logistics plays a critical role in getting vaccines to where it is urgently needed. Globally, across many markets, our cold-chain network and pharmaceutical logistics expertise have meticulously planned every last detail to manage an extremely complex operation seamlessly," said Charles Kaufmann, CEO, DHL Global Forwarding North Asia & South Pacific.
"The shipments were delivered on time, and most importantly, in the right condition according to strict requirements. That's the result of many months of rigorous planning to ensure the vaccines are delivered within the fastest possible time while ensuring the quality, safety and security of these critical shipments," said George Lawson, managing director, DHL Global Forwarding Australia.
"The deliveries were smooth as can be expected, thanks to the significant effort and rigorous planning by the teams involved. Working in close coordination with our partners on the ground and New Zealand's regulatory authorities, all measures have been taken to ensure not just the speed of deliveries, but also ensuring the quality and safety of these critical shipments," said Zane Morton, managing director, DHL Global Forwarding New Zealand.
Across DHL's dedicated global network, more than 9,000 specialists work to connect pharmaceutical and research organisations, wholesalers and distributors, as well as hospitals and healthcare providers across the value chain. With this contract, the logistics expert for air, ocean and road freight expands its global presence in vaccine distribution.