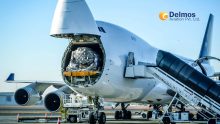 Delmos Aviation transported around 100 oxygen concentrators from Russia to New Delhi for the Government of Rajasthan. Delmos Aviation arranged for an end to end logistics supply for the Rajasthan Government and helped them with pre-buying formalities, legal documentation and clearance processes. Dr Naveen Rao, Director – Delmos Aviation, said, "We are proud to help the government in the procurement of oxygen concentrators in a short span of just three days. During this medical crisis, time-bound deliveries are very crucial. We will not leave any stone unturned to provide all possible support to the people of our country. We will keep on working hard to create new benchmarks. I would especially like to thanks the Aeroflot Cargo management team, Centurion Logistics and Moscow Cargo warehouse for prioritizing and expediting all the documentation needs, enabling a quick airlifting of the consignment."
A total of 1250 oxygen concentrators are ordered and will reach New Delhi in four lots of 100, 300, 450 and 400 units each. Apart from today, other lots will be arriving on 9th, 14th, and 16th May 2021. The consignment includes Oxygen Concentrator Single Flowmeter (0.5-10LPM Adjustable) and Oxygen Concentrator Dual Flowmeter (0-5LPM Adjustable). The models are JAY-10A & LFY-I-5A.
"During this raging second wave of the pandemic, Rajasthan Government is working hard to procure essential medical equipment on the directions of Chief Minister, Ashok Gehlot and Health Minister, Raghu Sharma. As part of its efforts to augment the medical oxygen in the State, the government planned to import 1250 oxygen concentrators from Moscow, Russia, in collaboration with Delmos Aviation Pvt. Ltd", said the official spokesperson.