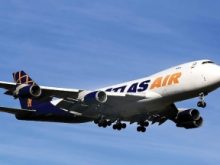 DB Schenker announced the extension of its partnership with Atlas Air for charter flights on the transpacific route. The flights which are part of the forwarder's global flight network, which was launched in 2020, will receive dedicated capacity on multiple flights each week by Atlas.
"We are excited to extend our current partnership with Atlas Air on our transpacific charter operations. The timely and reliable operation of Atlas Air fits perfectly into our commitment to provide our customers a reliable service for air transportation in their supply chain." said Björn Eckbauer, senior vice president, global operations and procurement airfreight, DB Schenker.
When the forwarder launched its "global flight operations program" in 2020, the service-connected Beijing, Shanghai, Zhengzhou, and Hong Kong to Chicago and Frankfurt ten times a week with exclusive full charter flights.