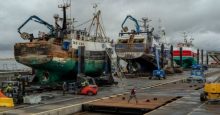 As the world economy recovers from COVID-19 disruptions and demand for exports rises, container prices at major ports, such as Chennai, Mundra and Nhava Sheva, remain high.The average price of a 20-ft dry container at the Chennai port stood around $1,600 (Rs 116,736, at Rs 72.96 to the dollar) at the end of May, compared to around $1,083 (Rs 79,015) in May 2020. The average price of a 20-ft dry container in Mundra at the end of May stood at around $1,550 compared to $1,163 recorded in June 2020, while for Nhava Sheva in Navi Mumbai, it was at $1,700 in May against $1,075 in June 2020.
Demand for exports, especially vaccines, medical equipment like masks, personal protective equipment kits, and oxygen concentrators, has risen in the past few months, shipping companies said.
"Many companies are likely to get into bidding wars to extradite their export and import cargo, and this is likely to lead to higher tariffs," another Mumbai-based shipping analyst said. Demand for white goods has also picked up in the last few months.