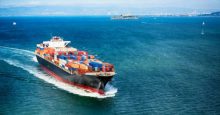 The global shipping crisis that is causing deepening shortages and shutdowns in Britain's shops and factories will last for as long as nine months, as giant vessels carrying Christmas goods start to queue in the English Channel to unload in Europe's congested ports.
A body representing British ports said that it expects the congestion affecting deliveries to millions of retailers and businesses to persist potentially until next summer as the shipping industry struggles with challenges from container shortages to a lack of lorry drivers to move cargo once it reaches quaysides.
One major shipping line told that the delays, which are forcing vessels to anchor in clusters in the English Channel and North Sea, will have a knock-on effect for supplies of consumer goods and manufacturing components in the coming weeks and months – with a risk that up to 20 per cent of goods ordered for peak Christmas demand will not reach retailers in time.