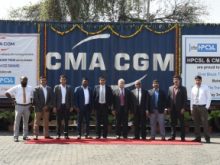 The CMA CGM Group and Hasti Petro Chemical & Shipping (HPCSL), known as The Thar Dry Port also, have jointly received their first ever Block Train from Mundra to the Thar Dry Port (ICD) at Sanand, Gujarat. This new service is the first block train by a shipping line between Mundra and ICD Sanand. The fully loaded 90-TEU train was flagged off from Mundra port on April 2nd and was received at ICD Sanand on April 3rd in the presence of representatives from The Thar Dry Port (A unit of Hasti Petro Chemical & Shipping) and CMA CGM India. The new weekly block train service is the first and only block train service by any shipping line, for Ahmedabad, Ex- Mundra. The train provides fixed window and dedicated service for customer import shipments ensuring a reliable departure schedule. The schedule departure of train from Mundra Port will be on every Saturday/Sunday.
This new service from Mundra to Sanand offers customers effective cargo handling and provides priority loading for urgent import shipments with no additional cost. Another key feature of the service is to have no partial loading from Mundra, as all the containers will arrive together as per bill of lading (BL).
Going forward, the CMA CGM Group is planning on streamlining the service even more to have a priority connection with the Group's Indamex and EPIC services, two major services of CMA CGM India, calling the Gujarat region.
The company is developing sustainable door-to-door solutions to allow its customers to significantly reduce the carbon footprint of their transported goods. Compared to cargo movement via truck, the block train option reduces CO2 emissions by up to 67%.