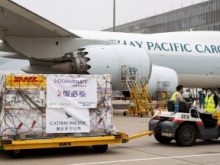 Cathay Pacific has successfully delivered the first batch of Fosun Pharma/BioNTech vaccines to Hong Kong, drawing on its long-established expertise in pharmaceutical shipments under cold chain protocols to meet the handling demands of the Fosun Pharma/BioNTech product. The first delivery of the first batch of one million Fosun Pharma/BioNTech vaccines to be supplied to Hong Kong arrived from Frankfurt were unloaded as priority from a freighter flight to the Cathay Pacific Cargo Terminal. Tom Owen, Director – Cargo, Cathay Pacific, said, "Different vaccines have differing requirements. The Fosun Pharma/BioNTech vaccine must be transported in a deep frozen state, which requires more complex transportation and storage solutions. Our 'vaccine solution' has proven itself to be ideally suited to the fast and effective distribution of this and other vaccines across the globe, using our freighter and passenger fleet, and our extensive global network."
The Cathay Pacific shipments to date include the milestone import of the first vaccines for use in the airline's home city of Hong Kong on 19 February. The one million doses of Sinovac vaccine were loaded inside six temperature-controlled Envirotainer RAP e2 containers, to maintain the vaccine temperature range of 2°C to 8°C, and carried in the belly hold of an Airbus A330 operating the scheduled passenger flight, CX391. Owen adds, "This was also the first shipment to use our new Ultra Track service, a key part of our vaccine solution."
On the same flight, there were 200,000 doses of the Sinovac vaccine destined for Mexico. The single Envirotainer RAP e2 container was towed to the Cathay Pacific Cargo Terminal in a thermal dolly and transferred to a cool room set at 15°-25°C, where it was recharged ahead of its midnight flight to Mexico City via Anchorage on a Boeing 747-8F freighter on flight CX086.